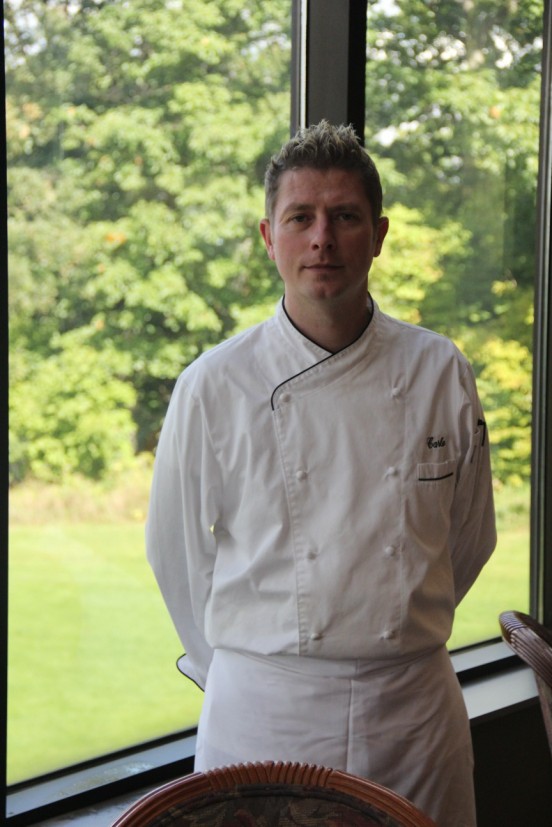 British-born Rochester chef makes TV debut on BBC America's Chef Race
Carlo Peretti, who recently was hired as the executive chef at Horizons Restaurant at the Woodcliff Hotel & Spa in Perinton and whose resume includes restaurants in Rochester and the Finger Lakes region, will be making his television debut this week on Chef Race: U.K. vs. U.S.,a BBC America series produced by celebrity chef Jamie Oliver.
The series follows eight Yanks and eight Brits  in a trans-America competition where they have to cook, hussle, fish and hunt to prove their worthiness. In the end of the series, only one chef will survive and win the $100,000 grand prize. Peretti, a native of northern England, competed on the British team.
The 10 one-hour episodes starts in Los Angeles and ends in New York City, with stops in Los Vegas, Albuquerque, Santa Fe, Colorado, Kansas, Oklahoma, Arkansas, Memphis, Missouri, Chicago, Detroit, Ohio and Baltimore.
Peretti had been trying to get on other reality cooking shows when he got a call from the casting director for Chopped in late May. A few days later, he was in California for the start of the series.
Peretti is sworn to secrecy and did not reveal the outcome in our recent phone chat. He did confess that "it was completely the most absurd thing I did in my life. I thought it was going to be a cake walk but it was the hardest thing I ever did."
Early on, the contestants are stripped of their cell phones, cash and credit cards, and have to rely on their ability to find work wherever they can to get by. Perretti spent nights in a church basement, an empty movie theater, the woods, the desert, and sometimes went hungry.
"Having absolutely nothing from having quite a lot was a humbling experience," he says.
Peretti, 38, who trained at Thomas Danby's Culinary School in Leeds and holds a degree in international hospitality and tourism management from University of Central Lancashire Business School, moved across the pond in 1995. His early U.S. resume includes cooking at  The Old Toad on Alexander Street in Rochester. He has then gone on to Thendara Inn & Restaurant near Canandaigua, Esperanza Mansion in Keuka Park, Yates County, and the New York Wine & Culinary Center in Canandaigua. His move to the Woodcliff resort in Perinton was formally announced last week. Peretti lives in Brighton.
London restaurateur Richard Corrigan of Masterchef serves as the show's mentor and judge in the series and Claire Robsinon of 5 Ingredients Fix is the host.
The first two back-to-back episodes air at 9 p.m.  and 10 p.m., Tuesday, Oct. 2 on BBC America, digital cable channel 326. The series continues on Tuesdays at 9 p.m. There is also a special preview of the first episode at 10 p.m. Saturday, Sept. 29.
—
Republished from original posting on http://blogs.democratandchronicle.com/her-staff/?p=4807
Posted in herRochester.com by Karen Miltner • September 25, 2012 • 11:54 am